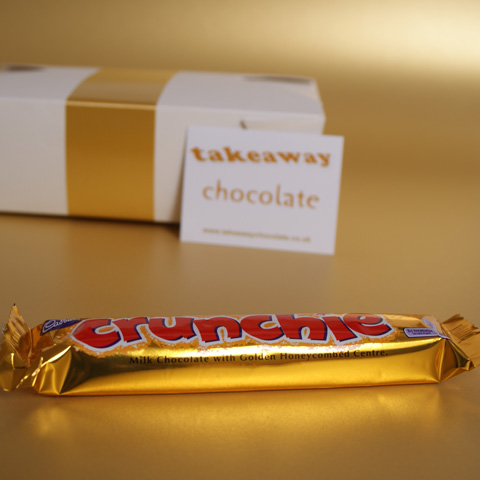 Crunchie Chocolate Gifts
from £5.00 plus £3.95 UK delivery
Crunchie honeycombe chocolate bars packed in a white takeaway gift box with cocoa tissue paper, wrapped with gold ribbon and a personalised gift card.
Cadbury Crunchie chocolate gifts, golden honeycomb covered in smooth, creamy Cadbury milk chocolate make an exciting chocolatey treat for children.
Two Crunchie bars are packed in our Mini box making an ideal little treat to send to friends, the Extra size has six bars and the Sharing size box, great for a family night in, has ten delicious chocolate covered honeycomb bars.
UK mainland delivery is £3.95 and your gift will arrive in 2 - 3 working days.
Choose your Cadbury Crunchie Chocolate Gift
Small takeaway box with cocoa tissue paper and matching gold ribbon
Mini Crunchie Chocolate Gift - £5.00
2 x Crunchie bar
Cocoa Tissue Paper
Gold Ribbon
Personalised Gift Card
Small White Takeaway Gift Box
Medium size takeaway box with cocoa tissue paper and matching gold ribbon
Extra Crunchie Chocolate Gift - £8.00
6 x Crunchie bar
Cocoa Tissue Paper
Gold Ribbon
Personalised Gift Card
Medium White Takeaway Gift Box
Large takeaway box with cocoa tissue paper and matching gold ribbon
Sharing Crunchie Chocolate Gift - £12.00
10 x Crunchie bar
Cocoa Tissue Paper
Gold Ribbon
Personalised Gift Card
Large White Takeaway Gift Box
If a Crunchie chocolate bar is a favourite you might also like to choose a Mars® Bar, Nestle® Toffee Crisp, Yorkie® bar, Snickers or Maltesers® to send as surprise chocolate gifts: