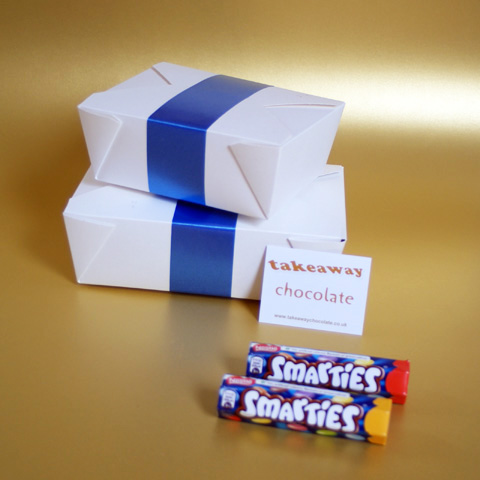 Nestle® Smarties Chocolate Gifts
from £5.00 plus £3.95 UK delivery
Tubes of Nestle® Smarties packed in a white takeaway gift box with blue tissue paper, wrapped with blue ribbon and a personalised gift card.
Nestle® Smarties takeaway chocolate gifts, milk chocolate in a crisp shell, ideal as children's gifts and fun present ideas for grown ups too.
Smarties chocolate gifts come in a Mini box with two tubes as a little treat, the Extra sizes comes with six tubes of Smarties, great fun at sleepovers and our Sharing size is ideal for play dates and kids parties.
UK mainland delivery is £3.95 and your gift will arrive in 2 - 3 working days.
Choose your Nestle® Smarties Gift
Small takeaway box with blue tissue paper and matching blue ribbon
Mini Smarties Chocolate Gift - £5.00
2 x Smarties
Blue Tissue Paper
Blue Ribbon
Personalised Gift Card
Small White Takeaway Gift Box
Medium size takeaway box with blue tissue paper and matching blue ribbon
Extra Smarties Chocolate Gift - £8.00
6 x Smarties
Blue Tissue Paper
Blue Ribbon
Personalised Gift Card
Medium White Takeaway Gift Box
Large takeaway box with blue tissue paper and matching blue ribbon
Sharing Smarties Chocolate Gift - £12.00
10 x Smarties
Blue Tissue Paper
Blue Ribbon
Personalised Gift Card
Large White Takeaway Gift Box
You might also like some little Milkybars or these other chocolates to send as fun gifts for children: